Individual clocks were pulled from different rooms and placed at each place setting to countdown until the new year
Silvery and glittery pinecones add a festive touch to white roses.
For this New Year's Eve table, I decided on a white and silver theme. The plates are my wedding china. The silver plated chargers were purchased through amazon.com. The crystal is my wedding crystal, Waterford Sheila. I wanted to set a formal table so I have a water goblet, a wine goblet and a champagne flute set at each place. The napkin is wrapped with a silver ribbon. I bought silver boxes from Michael's for favor and each has noise makers and a paper crown inside for the midnight countdown. I have small crystal clocks throughout my house so I pulled them all to place them at each setting for the new year countdown. Silver candlesticks and white roses with glittered pine cones are the centerpieces. I didn't have a silver table cloth or runner so I simply laid silver ribbon over the table cloth to add a bit of sparkle to the table.
WRITTEN BY REBA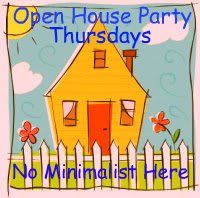 ""/>