If you missed Reba's Christmas home you can see it
HERE.
And our sister, Elsa, let us show her Christmas decor
HERE.
This year, the theme of my Christmas decor and my life is RE-vitalize. We have moved to a new house and plan on remodeling it. I am excited about all the potential the new house has and all the planning to improve it has my creative juices flowing again after a very long rut. Hence this blog, and that RE-energize, RE-vitalize, RE-create theme extends to my Christmas decor.
I already posted about the rustic Christmas mantel I improvised in my husband's new study which you can see by clicking HERE and my new Green & Silver Christmas Table setting which you can see HERE but I thought I'd show a few more projects I've done in other rooms. I am especially pleased with the Sunburst Mirror Tree Topper I made from recycled items for our family room at the end of this post.
TIME TO SHAKE THINGS UP.
THE BEGINNING: I did a previous entry which you can read by clicking HERE about foregoing the usual red, green & gold this year for a Green & Silver Table and how I changed the look for $1.25 per place setting by RE-purposing an old daybed cover as a tablecloth, using $1 silver chargers from Wal-Mart and making Christmas china from glass plates with holiday tissue paper. I liked how this came out so I decided to expand the color scheme in other holiday decor.

GREEN & SILVER TREE: Like many bloggers, my family puts out multiple trees at Christmas time. One of the trees we normally put out is a small table top silver, crystal & gold Christmas tree, but since the green & silver table looked so cute, I decided to try out the green & silver color combination on a tree. As with the dinner plates, I didn't want to spend too much in case I didn't like it or decided it was "out" so I relied upon green and silver ribbon and some snowflakes I bought at Target (4 for $1) and the Dollar Store (3 for $1) to transition our previous ornaments to the new look.
IMPROVISED TREE BASE: I didn't have a tree base for a silver and green tree, so I had my daughter cut off the top and bottom flaps of a cardboard box so it was just the sides. Then, she opened up the seam to lay the cardboard flat in one piece. I gave her some silver gift wrap and she covered the cardboard with it and tape. Then, we stood the cardboard up, put it around the base of the tree (a plastic tub it is sitting on) and stuffed some tissue paper in green and silver snowflakes (same tissue paper as the dinner plates) on top of it so it looks like the Christmas tree is a present.
HOT CHOCOLATE BUFFET: A few weeks ago, my friend Courtney hosted our Bunco group over for Breakfast for Dinner. She served French toast and lots of delicious treats including the egg casserole I love so much. If you want the egg casserole recipe, I gave it out previously HERE. To top off the evening, Courtney offered us Hot Chocolate and with it, she had a tray with cinnamon, marshmallows, chocolate, crushed peppermint and peppermint dairy whip. It seemed like such a great treat that I decided to recreate it for the blog. Imitation is the sincerest form of flattery, right? I hope Courtney agrees.
SERVE YOURSELF: I pulled out my coffee urn for the hot chocolate buffet. I wrapped it with green ribbon and a white snowflake ornament (also available in silver, green, red & light blue at 4 for $1) from Target.
BETTER THAN STARBUCKS: Here is my blatant copy of Courtney's fun spread. Cinnamon, marshmallows, chocolate squares, peppermint sticks and white chocolate green peppermint bark. Just add a can of dairy whip and anyone can create their own ultimate hot chocolate treat.
USING WHAT YOU'LL USE: For Halloween, my friend Diane hosted my family before Trick or Treating and she set out a wonderful spread of snacks for everyone. I'm sorry I didn't take a picture because the spread was perfectly selected and proportionate for the gathering. She put out a small basket of apples in case anyone wanted a healthy snack. She and I talked about hosting people and she said she has made it a point to now only offer guests food that her family will eat later. We both admitted making the mistake of serving food too rich for our families to eat as leftovers and of buying too much of it. With that conversation in mind, I decided to use green apples as decorations. I cut up 1 or 2 to use as candle holders with votive candles but otherwise, they could be used as is. They add a punch of color to the green & silver theme and my family can eat them afterwards.
I like using fruit and vegetables for votive candleholders. I use mini pumpkins for Halloween & Thanksgiving and apples for Christmas and sometimes during the summer. Besides being very inexpensive and practical, I love calling attention to natural beauty.
BEFORE & AFTER: OUR TREE TOPPER
CAN WE SKIP THE TREE THIS YEAR?: This is our living room tree last year. Sorry for the poor quality pic. My husband snapped the shot on his phone. I guess he wanted a picture of our last Christmas in our old house. The ridiculously crooked angel on top says so much. This was a very stressful Christmas. We had bought our new house, but we were still trying to sell our old one. Having 2 households to take care of and not really being moved into one was very demanding on our resources (time, money, energy) Putting up a tree was not something I was anticipating happily, but we were hosting a family Christmas party so we thought we should put one up. We got a tree quickly and threw some of our ornaments on the tree, nearly literally. Our living room Christmas tree ornaments, like our living room furniture stayed the same for over 10 years and both got a bit dated while I wasn't paying attention. But, to be fair, this picture doesn't do it justice because we normally got a fuller tree and the ornaments were done with more care. The angel was even put on straight most years.
LET'S START FROM THE TOP: We are still thinking about our improvement plans so our new house is still very much a "before" but we've made a few changes and they are helping plan what else we really want to do. Similarly, while we were putting up our Christmas tree (in the family room this year because the living room in our new house is a storage room for things we bought for other projects right now), I was trying to think of something small we could do to change the tree's look without giving up all our old ornaments because I wasn't ready to make that change yet.
INSPIRATION: We bought a sunburst mirror from Wisteria recently for the family room and we really like it. I remembered seeing this Ballard Design sunburst tree topper and thought it might be a great new tree topper for our gold tree, but they sell it for $75. If it has been under $50, I would have bought it sooner, but that seemed a bit steep to me for what it was. Plus, I needed it for Christmas so I was looking at expedited shipping costs which would have make it even less well priced in my opinion.
ALTERNATIVE? MAKE IT INSTEAD: This cost me about 30 minutes of time and ZERO dollars. It is made of a recycled compact mirror, an old CD, cereal box, skewers we already had, sequins and gold paint left over from a craft for a party. I had seen several people make DIY sunburst mirrors in blogland from skewers and Dollar Tree mirrors and I had just posted an entry HERE about many recycling projects for Christmas wrap/items and it all came together as this. I think it turned out well and my husband agreed so I am pleased with it. I will post a tutorial on how to make one right after I finish with this entry.
INSTANT IMPROVEMENT: We hadn't finished putting up the tree ornaments, but as soon as I placed the new sunburst mirror topper on, I felt like the tree was much fresher and more current. I also liked how it repeated the sunburst design from our new mirror.
BIT BY BIT: Please ignore my bare windows. We have white linen curtains from Restoration Hardware stacked up in the living room for in here, but I need to fix the rod situation first. The rods I bought I don't think will work with the tight corners. By the way, I am searching high and low for bamboo shades for these windows. People on their blogs said they bought theirs at Target & Bed, Bath & Beyond and neither carry them anymore. I bought some at Lowe's and they were too light so I had to return them. I want the medium shade tortoise shell looking ones. If you know where I might find them for a good deal, please leave me a lead in the comments.
NIGHT VIEW: With the white lights and the new topper, I feel much better about this tree. I may change it up some more, but the new topper was a good start and you cannot beat the price. :D
CLOSE UP: A better view of the ornaments.
CLOSE UP PT 2: Another close up view of the ornaments. I still like the angels, but I am ready for something more fun. I was thinking of adding words to the tree next year. I have seen some typography ornaments and banners that are very cool. If you have a suggestion for another update I could do without chucking all the ornaments, please leave it in the comments. I would enjoy hearing some ideas.
THROWING THESE IN: because I took them. LOL.
THANKS FOR VISITING THE BLOG.
Happy Holidays!
WRITTEN BY ELDAROSE
P.S. I just posted my friend, Martha's GORGEOUS, NOT TO BE MISSED Christmas Home Tour which you can see HERE.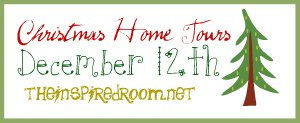 See more Christmas homes at the Home Tour by clicking HERE
To see more Xmas decor click HERE