cascarones
in Spanish and that is what we call them here. Legend has it that Marco Polo brought the tradition of hollowed out chicken eggs to Italy from China. From Italy the tradition spread to other countries and eventually the Empress Carlota (originally from Belgium) brought the idea to Mexico during her short reign in the 1860's. In Italy, the eggs were filled with scent. In Mexico, the eggs were filled with confetti. From Mexico, the tradition spread north to South Texas. During Easter, we break the confetti filled eggs (cascarones) over people's heads which supposedly is good luck. In South Texas, cascarones are so popular that Easter weekend there will be road side vendors selling large bags filled with colored confetti-stuffed Easter eggs. Even our local grocery chain will sell
cascarones
by the dozen.
The women's guild at my grandmother-in-law's church would hand paint cascarones as a church fundraiser. I inherited four dozen of these eggs that date from the 1950's and 1960's from my grandmother-in-law. Most are decorated with whimsical animals, but some have flowers. Two are extra special to me because they are painted with the wrought iron gate of our home which has bougainvillea growing over it. Our home originally belonged to my husband's grandmother and one of her friends painted those Easter eggs for her as a gift. So after Ash Wednesday, I put these hand painted cascarones out in a moss covered basket as a display.
I will set the table with wicker chargers that I bought a couple of years ago at Wal-Mart. The light green silverware was purchased at Target. The pink plates were purchased at Dillard's four years ago. The bunny egg holders are from Tuesday Morning. The Easter napkins are from Pottery Barn purchased this year. Also, Pottery Barn had these little glass Easter egg ornaments that I purchased to use as napkin holders by adding a ribbon. The pink glasses are from Horchow. The pink bud vase is from Target also. We are lucky enough to have gardenias flowering right now so I added the bud vase to enjoy the great scent.
cascarones
.as a centerpiece After the Easter egg hunting is done and the cascarones are all cracked, all my nieces and nephews will come inside and I will allow them to take home one of the chocolate bunnies from the centerpiece as their Easter present.
Written by Reba
Reba's Pink and White Luncheon Tablescape is HERE
You can see the Peter Rabbit Birthday Party and Easter Playdate Eldarose threw HERE
See My Spring Butterfly Mantel HERE
LINK PARTIES: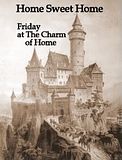 See more Tablescapes HERE