GO GREEN. Even though neither I nor my husband are Irish, I was loving all the St. Patrick's Day tables I saw other bloggers putting up and I was bummed because I did not have any green and white tableware to do a St. Patrick's Day table of my own. I always went to Catholic Schools, so I am use to celebrating St. Patrick's Day. Not to be left out, my solution was to rely upon a lot of recycled materials, scrapbook paper and craft projects to set up a festive holiday table setting. I am pleasantly satisfied with the end result above.
RECYCLED INVENTORY. The round green place mats were from our old home. I forgot we had them until I started rummaging around looking for green items for the table. The glass plates I got a long time ago from Garden Ridge Pottery here in Austin, but I know the Dollar Tree always carries some, too. I think glass plates are handy. Some may recall how I used glass plates and tissue paper to make DIY Christmas Plates. For St. Patrick's Day, I used scrapbook paper in a green and white gingham pattern to make shamrocks to adhere to the underside of the plates. It took one scrapbook sheet to make the 4 shamrocks for the 4 plates. I free hand drew the first template. It isn't hard to draw a shamrock, it is just 3 hearts and a stem. The glasses are old pickle jars I have been saving up for a summer table setting. I had green and white polka dot name tags which set the palette for the scrapbook pages I bought. I lucked out and found scrapbook pages with green and white polka dots and used them to wrap old tin cans to use as flower containers. With the paper scraps left over from wrapping the tin cans, I cut out 4 strips to put around the napkins and I used adhesive spray to keep them folded. The leprechaun hat/leprechaun trap is a craft from felt, scraps of paper and an old plastic 2 liter bottle for the base. A piece of St. Patrick's Day scrapbook paper under the hat and some gold foil wrapped chocolate coins on a cake stand are the centerpiece. The pots of gold are made from recycled yogurt cups.
Mix of patterns. I had 3 main patterns. The name tags on the glass jars and the scrapbook paper on the napkins and the tin cans match a scrap of material I used as a runner. The gingham print is on the hat and the shamrocks under the plates. The darker green and white shamrock print is under the centerpiece.
ANOTHER VIEW.
A PLACE SETTING
LEPRECHAUN HAT/LEPRECHAUN TRAP. The idea for the centerpiece comes from a Family Fun magazine craft you can see HERE I didn't have a can to use, so I used a 2 liter soda bottle for the base.
MY SUPPLIES. Spray Adhesive. Glue gun. Felt squares. Scrapbook paper. Old plastic bottle. Cardboard piece cut out in a round.
Spray Painted Yogurt Cups. I save yogurt cups for different craft projects and I always have gold spray paint around.
POT OF GOLD. Recycled Yogurt cups, painted with gold spray paint, filled with rolos candies, green tissue paper, a quickly drawn rainbow and a cloud, add another recognizable Irish element to the table. These are great crafts for kids in Sunday School. For my Sunday School class, we normally make shamrocks with images for The Father, Son and Holy Spirit for each leaf to explain and represent The Holy Trinity to the kids the same way St. Patrick did, but this year, we won't have class for St. Patrick's Day so I don't have the supplies handy or I would have added that in somewhere.
GREEN MINT PUNCH. I filled the glass jars with a mixture of green lime sorbet, diet limeade and diet 7 up. The green and white paper straws I got at Sur La Table. I really want some more paper straws in other colors so I might end up ordering some online because I haven't found the other colors I want locally.
White Simple Flowers. My local grocery store had a bunch of the above flowers for $4.99 so I couldn't resist picking up a bunch which was more than enough for the 2 tin cans.
HAPPY ST. PATRICK'S DAY.
WRITTEN BY ELDAROSE
Links to more of our St. Patrick's Day table celebration pages are included below.
You might also enjoy my post RE-cycling Ideas for a Greener Christmas which you can read
HERE
You can see Reba's St. Patrick's Day Table HERE
A Christian Cross Bead Craft for Kids (Great for Easter Playdates) is described HERE
You can see my 2014 St. Patrick's Day table HERE
You may also be interested in my new post this week on MOM CAMP which is HERE
Reba's Blue and White Toile & Check Luncheon Table is HERE
LINK PARTIES:
This entry will be party of Cuisine Kathleen's St. Patick's Day Blog Crawl. You can see many more St. Patrick's Day tables, crafts, holiday decor and ideas
HERE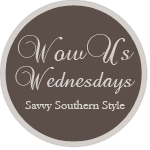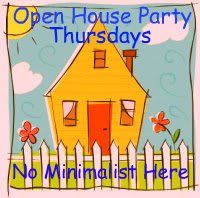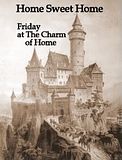 See more Tablescapes HERE