OUT ON THE PORCH. As Reba mentioned in her post on Blue Toile Tables, she likes to host guests outside on her covered porch. She fits 3 tables of 10 there easily and since weather in our area is warm most of the year, she doesn't have to worry about it being too cold. Almost 4 years ago, Reba hosted a luncheon in honor of our niece's graduation from high school. For the party, Reba chose a pink and white theme. Reba used light pink and white buffalo check runners over rented hot pink tablecloth on the tables. Pink and fuchsia colored roses in white pots were the centerpieces. As with the blue table settings linked above, Reba chose personalized M&M's in white tulle drawstring baggies as favors for the guests at this party. White and pink paper placecards were used at each setting.
Reba used her lighter pink glass goblets and clear water goblets. Silver chargers under white plates broke up the pink infusion. Reba found a cute set of white and cotton candy pink napkins at Pier One with different designs (polka dot, stripe etc.) on sale. She bought all the ones they had in our local stores and asked me to buy some in my town so she would have enough for 30 place settings which she has mentioned is the number of guests she plans for when she shops for tableware/entertaining items. She placed the napkins on top of the plates at each setting. She used her Towle Old Master silver for flatware.
I think the party setting turned out super cute and very appropriate for the occasion. Hope you enjoy the pics.
When she began planning the party, she originally was going more pink, black and white because she found some cute party invitations that match our niece's personality. However, the adorable napkins from Target made her go more pink, silver and white in the end. If you're curious, Reba found the invitation online HERE
WRITTEN BY ELDAROSE
You can see Reba's Pink & Green Toile Table HERE
You can see the Peter Rabbit Birthday Party and Easter Playdate Eldarose threw HERE
LINK PARTIES: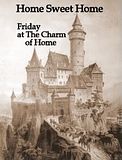 See more Tablescapes HERE