Green and white shamrock napkins held in silver napkin rings are the focus of the setting. I used green glass goblets and green handle flatware. White plates on woven rattan chargers complete the casual setting.
SHAMROCK ORNAMENT. This shamrock ornament is a Christmas ornament I tied around a bud vase. I saw the above flowers in a bunch at my local grocery store and picked them up. I do not know what kind of flower it is, but whatever it is, the flower is very hardy. I've had them for 2 weeks and they look as good as the day I brought them home. That is my kind of flower!
CLOSE UP OF PLACE SETTING.
HAPPY ST. PATRICK'S DAY
WRITTEN BY REBA

You can see Eldarose's St. Patrick's Day Table made of recycled and crafted items HERE

LINK PARTIES:
This entry will be party of Cuisine Kathleen's St. Patick's Day Blog Crawl. You can see many more St. Patrick's Day tables, crafts, holiday decor and ideas
HERE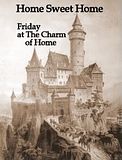 See more Tablescapes HERE