GIRL'S NIGHT UNDER THE STARS. Last Fall, I had my book club over for dinner outside in the cabana. We all contributed to the meal. My contributions were drinks and appetizers. Sorry, I didn't take pictures of everything, but here's the place setting.
BURLAP & LINEN. I am mildly obsessed with burlap and I have been for years. My husband doesn't get it, but I love how burlap adds an earthy quality to any setting. I used it above over the white linen table cloth. For my last birthday, I asked my husband to buy me succulents instead of the rose bouquet he normally gets me. I am into succulents right now. I like their shape and color. Plus, it was very practical because they will last awhile (fingers crossed) whereas cut roses would have died in a week.
OPPOSITE VIEW. I bought gray wicker kooboo chairs at World Market on a tip from Joni at Cote De Texas' blog. I also found these great gray wicker outdoor trays online. Restoration Hardware had some, but for much more, plus the sizes I saw were too large for my setting. I am very happy with both the wicker chairs and the wicker trays as purchases.
FLOWERS & TWINE. I placed the white napkins in napkin rings I made from paper towel holders. I cut the paper towel holders into 1 inch rings and wrapped twine around them and secured it with hot glue. To glam it up a bit but still stay with the outdoor theme, you can tuck fresh flowers or a single bloom into the napkin ring as I did above. Simple flowers will do fine for this.
CONTRAST. I pulled out my silver knife rests for the party. They, along with the sterling silver, were a nice contrast to the simple natural elements (burlap, succulents, wicker, pebbles) on the table.
DOLLAR STORE CRAFT. Between the succulents, I placed the above candles. The glass containers, the twine, pebbles and candles are from the Dollar Store.
GIFTS. My girlfriends admired the candles and asked me where I got them. When I told them I made them, they asked if I would make some for them and I did so. I gave them out as Christmas gifts along with tamales I helped make this year. (See: RE-ceiving-guests: A Tamalada & a Tamale Recipe ) I believe they were very happy with them. I used them on a RUSTIC CHRISTMAS MANTEL this year to hold nuts and I already have another table setting where I plan on using them.
SUCCULENTS. I LOVE them individually or in groups. They are so interesting looking. They were the perfect low-key element I wanted for the center of this very laid back evening. I wanted the setting to feel like a treat, but still very relaxed.
NAPKIN RING. I plan on using the napkin rings for another setting soon. I already used them also for a Western Table setting. They have a lot of versatility and are very easy to make. Plus, they are basically a few pennies each because the base is a recycled material (paper towel holder) and $1 worth of twine would probably make 20.
EVERYDAY SERVICE. I used my every day crystal, Mikasa French Country for the dinner. I also used white ironstone plates I bought at Target. I wanted it to be a casual evening, but I pulled out the sterling because I felt the table needed some elegance to give it a little drama. It seemed like an easy addition and cost me nothing. Plus, it seems whimsical to use something formal outside in a casual setting which I like.
CHEESE PLATTER. I bought these cute chalkboard picks at World Market for the cheese tray. I am sure someone could make them, but these were only $5 and they are on white porcelain so it hardly seems worth making them. I like to put out a cheese ball and 3 cheeses, walnuts, cranberries, crackers and a sweet sauce on a cheese tray. My book club friends and I are cheese lovers. Brie especially disappears whenever anyone offers it.
REFINISHED TABLE. The table is a $100 Craigslist find that I restained. I will do a post on that project later.
BEVERAGE TUB. I realized I needed a drink tub for the cabana. I found a red one on mega sale at Lowe's and spray painted it green to match some plastic ware I am using outside. I bought the stand from World Market, also on sale. I tied a bottle opener to the side of the tub with a green and white polka dot ribbon to keep it handy for guests.
LONG VIEW. This picture makes me realize how much I need an outdoor rug. It also makes me grin about the mirror. I got it at a 50% sale at Hobby Lobby. I wanted to add decorative elements to the cabana to make it feel more like a room and a mirror was my first idea. I think it works well.
STORAGE. I may get something different, but for now I am storing entertaining supplies in Pottery Barn baskets that use to be in our family room in a tall black metal case. It is a work in progress but for this dinner party, it worked fine.
WRITTEN BY ELDAROSE
If you would like to see my Backyard Remodel progress click HERE
Linking this post to:
Cuisine Kathleen
http://www.cuisinekathleen.com/2012/04/tweet-tweet-happy-earth-day-let-dish-5.html
Table Top Tuesday at A Stroll thru life
See more tables
HERE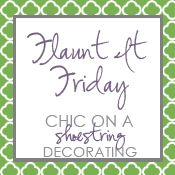 ;
See more Tablescapes HERE